How your money is spent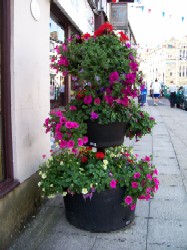 The Town Council's estimated net expenditure for 2015/2016 is £149,646 of which £97,013 comes from the Precept.
Around £21,319 of the Council's budget for 2015/16 has been allocated to:-
Decorative Clitheroe
Citizens Advice Bureau
Roefield Leisure Centre
Clitheroe Concerts Society
Clitheroe Town Band
Clitheroe Football Club
Clitheroe Bonfire Committee
Ribble Valley Choir
Ribblesdale Wanderers
The Council contributes to a range of Christmas festivities, including the Christmas decorations for the Town Centre, floodlighting of the trees and crib at the Castle and for the nativity play. This spending amounts to approximately £15,100. The Council's budget also pays for the Mayoralty function.
The Council provides finance for the annual band concerts held at the Castle Bandstand during the summer months and also provides planters in the Town Centre during the summer.
The Council provides and manages the various allotments in the town and the play areas at Chester Avenue (Tom Robinson) and Park Street .
The Council also maintains the Cenotaph in the Castle Grounds.