Events
Band Concerts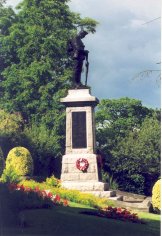 The Council organises and sponsors a number of band concerts which have traditionally been held on alternate Sundays during June, July and August. The concerts are held at the Castle Bandstand and start at 2.30pm .
Details can be obtained for the summer 2016 concerts from the end of March 2016.
Last Night of the Proms concert
This concert is held on either the first or second Saturday in August. The date is decided so that it doesn't clash with the Clitheroe Food Festival. It is a free event starting around 7.00pm. A collection is made during the evening for the Town Mayor's Welfare Fund. For further information please contact the Town Hall on 01200 424722 or e-mail to clitheroe@btconnect.com

Remembrance Sunday
The Town Mayor traditionally lays a wreath at the War Memorial at the Castle on Remembrance Sunday. The Service starts at 12 noon. The Mayor also attends services at Smary's Church and Low Moor War Memorialas well as the National Pause to Remember at 11am on Nov 11th. For further information, please contact the Town Hall on 01200 424722.
Christmas festivities
The Council organises a crib dedication service in early December. Please contact the Town Hall for further information. The Christmas lights scheme in the Town Centre is also organised by the Town Council and the Decorative Clitheroe Committee.